Hourly Restaurant Opportunities
Whether you're looking to launch a career in hospitality, or, a part-time job while in school, Lone Star could be the place for you. Check out our hourly positions to find your fit.

To apply, print and complete our Application Form below. Drop it off to your nearest Lone Star location with your resume. A manager will be pleased to discuss next steps.
Print Application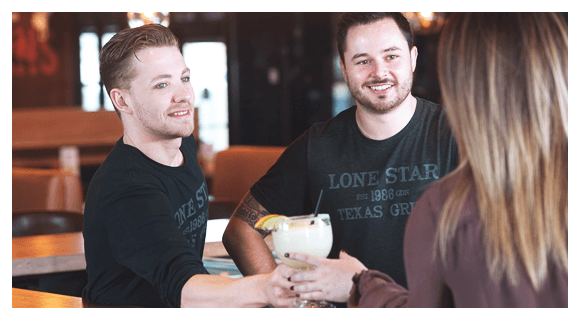 We welcome everyone at Lone Star, no matter who you are, or where you come from. Our restaurant is for everyone, and so is our workplace. We encourage you to bring us your personal experience, your perspectives, and your background. We are an equal opportunity employer. You name it - we don't discriminate against it. We also welcome applications from persons with disabilities and provide accommodations, upon request, at all stages of the recruitment/selection process. Please contact us should you require assistance.
Server

Our servers personify Lone Star's Southern hospitality, suggesting favourites on our menu, ensuring there is always fresh food and drinks on the table, taking care of all the details, and creating a memorable dining experience.

Bartender

Mix, pour and blend all while setting the pace for high energy in the bar. This job is all about fast, accurate, friendly service and making sure our guests have a blast.

Hosts & Hostesses

The first of many smiles when guests walk in the door – our hosts and hostesses greet guests, help seat guests and provide a welcoming start to their Lone Star experience.

Busser

To ensure our guests' dining experience is kicked off as quickly as possible, tables must be cleared and cleaned as efficiently as possible. This job is about helping our guests always feel comfortable and attended to.

Line Cook

Broils, grills, fries, sautées, and prepares all of our menu items to exact quality standards. The Line Cook also ensures that all items in a table's order are completed at the same time while practicing proper food-handling procedures.

Dishwasher

Providing a clean restaurant with the highest sanitation standards is a promise we make to our guests. Responsibilities in this job include ensuring that all of our serving ware is spotless, plus the maintenance of our washrooms and general areas.

Food Prep

Our high standards in food preparation are the first step in making great meals. This job entails taking our high quality meats, fresh produce and food products and following our recipes to prepare the great tasting meals we're known for.